David Collison pioneered modern sound in the British Theatre.
Somewhat surprisingly, he was actually the first sound designer in the world to receive a poster credit : For the final season at the Old Vic Theatre, under director Michael Elliott, before the National Theatre Company was established, in 1962.
Sound by David Collison at the Old Vic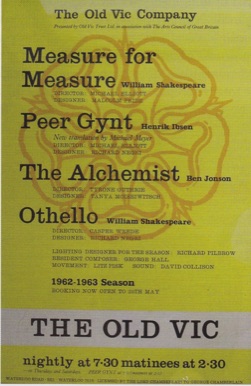 David began his career as an Assistant Stage Manager at the Arts Theatre Club in London. His career spanned the use of mechanical wind machines, thunder sheets and 78 r.p.m records to LP's, reel-to-reel tape machines, tape cartridges and CD's, right up to digital recording and sampling. One of his first directors was Sir Peter Hall, who said of David: "As a young director; I was fortunate enough to encounter a technician of genius: David Collison. He could cue a sound to a tenth of a second — by hand on a pick up . . . and although for many years he has been able to do the impossible with sound, he has the humility of every great theatre technician."
It was while working for director Michael Elliott on the 59 Theatre company's season at the Lyric Hammersmith, that I, as a fledgling lighting designer, met David. It was the astonishing production of BRAND that brought both David and I to the attention of the theatre world. I had ambitions for my new company Theatre Projects, and I invited David to join me to form a sound 'division'. Just as lighting design was about to become accepted, David's work pioneered sound design in the British Theatre.
Our next mutual success was to be BLITZ! This astonishing spectacle. which I believe has never been really equalled on the West End stage, was the World War II bombing of London—onstage. Noel Coward reportedly remarked: "twice as long as the real thing, but only half as amusing."
During BLITZ!, David met Anthony Horder, a member of the stage managment team. He was to become David's partner in Theatre Projects Sound for the next fourteen years.
With a sound studio and recording facilities in the basement of TP's rental store in Neals Yard, they became hotly sought after for sound design, and sound effects, across the West End, the RSC and the fledgling National Theatre. David was a pioneer in the amplification of musical theatre in the UK. Later as TP moved into theatre consulting, David was responsible for a host of innovations in sound installations across Britain.
BLITZ! The Lionel Bart Musical, designed by Sean Kenny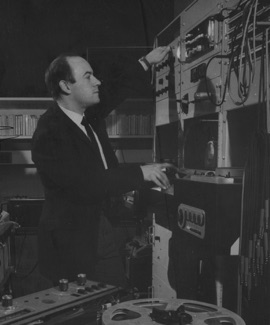 Tony Horder and the sound effects library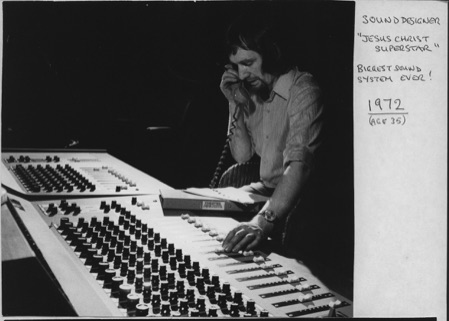 David's pioneering work on show sound design led him to initiate dramatic improvements in permanent sound installations for projects ranging from the National Theatre, and the RSC Theatre at the Barbican, to the actual manufacture by Theatre Projects of innovative sound mixing installations. In association with TP's design engineer, Sam Wise, perhaps the most ambitious being the 60 channel/32 group film post production console built for Pinewood Studios.
David is the author of two great books: "Stage Sound" (1976-1982) and "The Sound of Theatre" (2008)
Modular TP Sound mixing console
Pinewood Post Production Console